October 19 -- President Guo Dongming meets Li Yanguang, chairman of Chinese Office from China Scholarship Council (CSC), who is invited to the third International Cultural Festival of DUT. They exchange opinions about cultural development of DUT. Attending the meeting are Liu Tong, deputy chief of Educational General Office in Liaoning province, Xu Zengyun, director of Exit-Entry Administration Bureau, Ning Guiling, vice president of DUT, Chen Hongjun, pesident of College of International Education.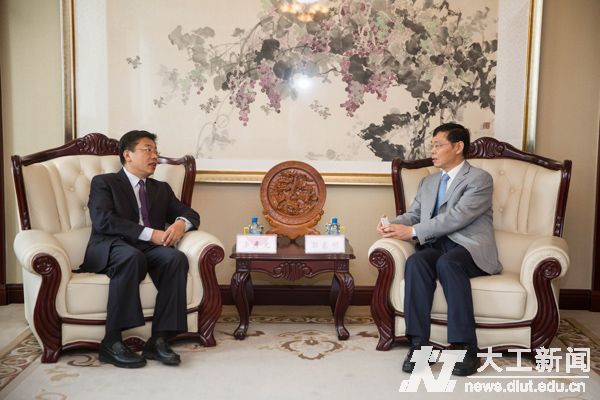 Guo Dongming thanks the strong support from CSC. He welcomes Li and his delegationto the third International Cultural Festival of DUT. Guo says, international construction is important for building an internationally preeminent, and research-oriented first-class university. He hopes CSC and provincial governments continue to support, instruct the work of international construction, help DUT to expand its international influence, and achieve new goals.
Li Yanguang thanks DUT's support to CSC. He introduces "Experience China—Novel Agricultural", the theme activities of international students in China. Li hopes that DUT can make the best of the overseas study projects towards China, and plays an effective role in the process of foreign students' studies, further expanding its international influence and promoting the university's internationalization.
After the meeting, Guo Dongming and Ning Guiling went to the public square of the No. 1 Teaching Building with guests, attending a ribbon-cutting ceremony of DUT's third International Cultural Festival.